Accommodation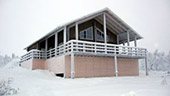 We offer You high quality accommodation in Saariselkä. You can choose from 10 alternatives from apartment for two persons to apartment suitable for 11 persons. You can rent apartment right in the center of Saariselkä or peaceful cabin little further.
From us You can also rent a vacation condo from Spain, Costa del Sol.
You can find our Accommodation pages here.